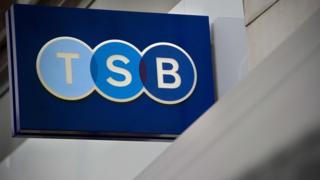 TSB customers have reported problems with their online banking after weekend upgrades to the company's systems.
The bank warned its users that it was carrying out upgrades between 16:00 BST on Friday and 18:00 on Sunday.
But a number of customers were still facing problems on Sunday evening. One customer was credited with £13,000 he didn't have, and could see details of someone else's account.
TSB apologised and said it has now fixed the issue.
Laim McKenzie, from Paisley, in Scotland, signed into his app shortly after 18:00 on Sunday and discovered the problem.
The 20-year-old said: "I saw the details of one other account holder, as well as my own.
"My balance, because of my overdraft, is in minus, but my balance was showing at £13,000.
"I closed the app and went in again at 19:00 and only my account was showing – but my balance was showing at zero.
"I've closed the app again and have not been able to access it since."
Other customers have taken to Twitter to complain about issues, including being unable to log into their internet banking accounts, being unable to transfer funds and not being able to make payments.
TSB has issued a statement apologising to customers for the problems.
A spokeswoman said: "Unfortunately, there are some intermittent problems affecting these services.
"Both the app and internet banking should be up and running again soon."